DvD Translations presents:
BOMBERMAN
(Password Nirvana)
Patch Released: April 26, 2020
Downloads
Patch | ReadMe | Famicom Manual | NES Manual
---
This is NOT a translation.

Bomberman was already localized for the North American market.
But, the password system was so difficult to use that it made saving and continuing the game an unpleasant experience.

This enhanced version of Bomberman was created to correct this problem.
The game we have enhanced was the one originally released for the North American Nintendo Entertainment System in 1987.
Although, the only difference between the Famicom and NES version of the game is the title screen and the ending screen.
Screen Shots

Title Screen: Japanese, USA, and Enhanced



Password Screen: Enhanced Bad Password



Ending Screen: Japanese and USA

---
Game History
Bomberman is the largest game series made by Hudson Soft.
Bomberman is the first game in the series, although it is a remake of a number of other similar games Hudson Soft had previously made for other systems.
Hudson Soft released the original Bomberman for the NEC PC-8801.
This was quickly ported to the Spectrum and MSX.
The original Japanese version of Bomberman for the Famicom was released on December 19th, 1985.
This and all other Bomberman games released for the Famicom and Nintendo Entertainment System (NES) were by Hudson Soft.

Bomberman was localized for the USA NES in sometime in 1987.
The original Japanese version of Bomber King was released for the Famicom in August 7th, 1987.
Bomber King was localized for the USA NES as Robo Warrior in December of 1988.
Robo Warrior was ported to the European NES on September 27th, 1989.
The Japanese version of Bomberman was finally ported to the Famicom Disk System as a Disk Writer excluive game on April 2, 1990.
The original Bomberman II was released for the Famicom in Japan on the 28th of June, 1991.
This is the first game in the series to allow multiple players. This game allowed 3 simultaneous players if the 3rd used an external joypad.
Bomberman II was localized as Dynablaster for the European NES sometime in 1991, which utilized the NES 4-Score for 3 player simultaneous play.
For some reason, Hudson Soft took 2 years to port Bomberman II to the USA NES in February of 1993.
With such a late release date, the game sold poorly and now Bomberman II is one of the most valuable NES cartridges on the market.
After Bomberman was released and up through today Hudson Soft and other companies have released numerous Bomberman games on every major platform including the:

Nintendo Game Boy
NEC PC Engine / TurboGrafx 16
Sharp X68000
Commodore Amiga
Atari ST
Super Nintendo Entertainment System
Sega Genesis
Nintendo Virtual Boy
Sega Saturn
PC
Nintendo 64
Nintendo Game Boy Color
Sony PlayStation
Game Boy Advance
Sony PlayStation 2
Nintendo GameCube
Sony PSP
Nintendo DS
Microsoft Xbox 360
Nintendo Wii
Sony PlayStation 3
Nintendo Switch
Sony PlayStation 4
various mobile phones
various arcade cabinets
---
Patch Features
Continuing the game without having to re-type the horribly long password each time!! Simply press Select on the Continue/Password Entry screen
The ability to retype any character of the password if a mistake is made! Simply press Left
Selecting password characters is now done by pressing Up and Down instead of any pressing any direction
The ability to correct your password if it is not valid without starting over again! Instead of being erased it's highlighted in red and any character can be moved to by pressing the A Button or Left
To make the high score useful and to make getting a high score an actual challenge whenever continuing, your score always starts at zero.
Additionally, the password now stores your high score instead of your score so that your high score is saved when the NES is turned off! All passwords are fully compatible with the unmodified NES and Famicom game.
Restored Famicom title screen
Demo screen fully functional while still allowing the player to continue
---
Scans
Box Front and Back
Cart
Poster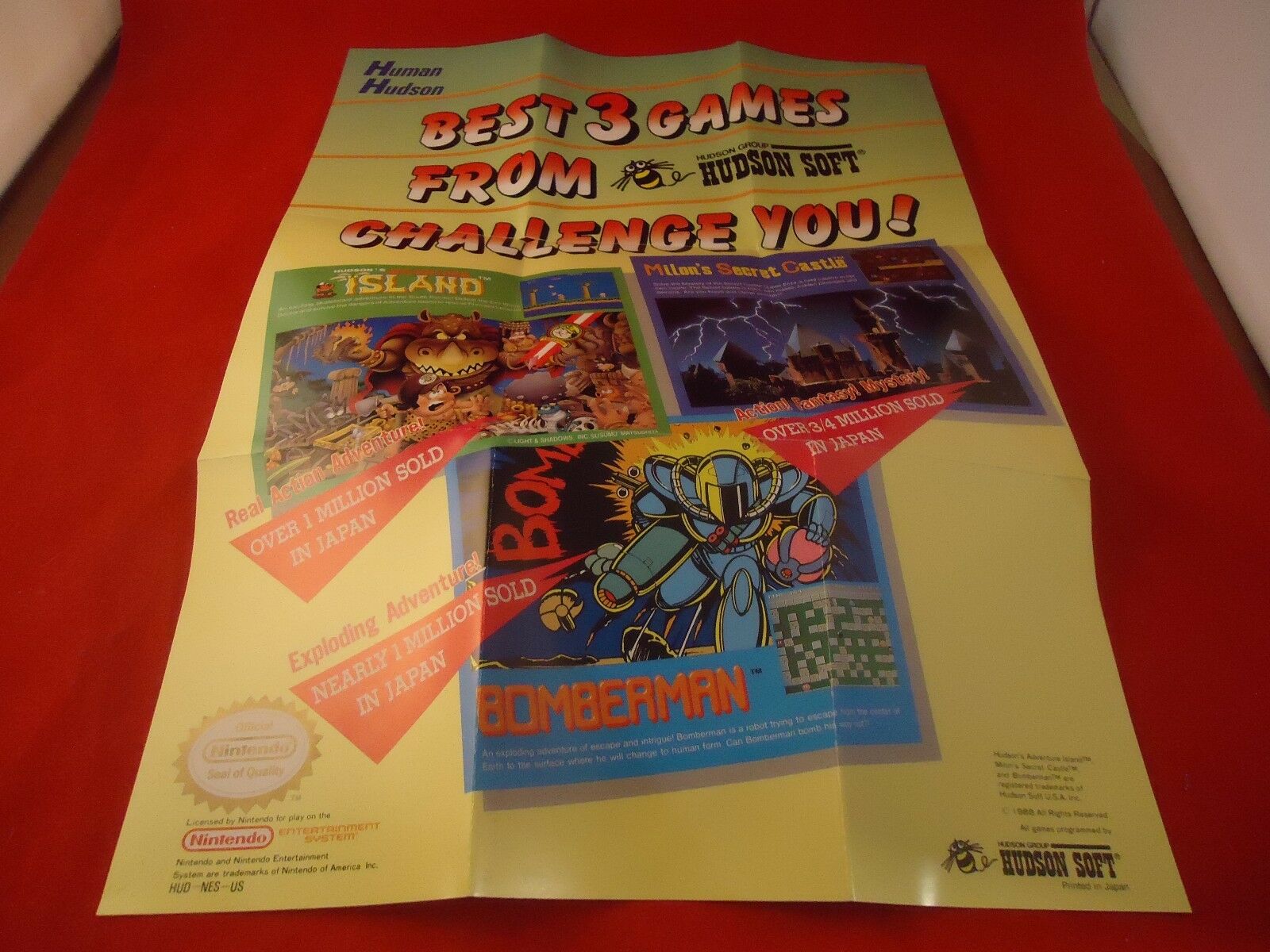 Famicom Complete Set
---
Project History
3.May.2020
Project title changed from Bomberman to Bomberman (Password Nirvana)
26.April.2020
4.April.2020
Final version testing completed
31.March.2020
Final version testing started
28.March.2020
4th Alpha Version testing started
27.March.2020
2nd Alpha Version testing started
26.March.2020
24.March.2020
Continue via Select functioning
Press Left to move cursor
1.March.2020
Project started
Diasassembly begins
---
Return to DvD Translations


Page Last Modified: May 17, 2020